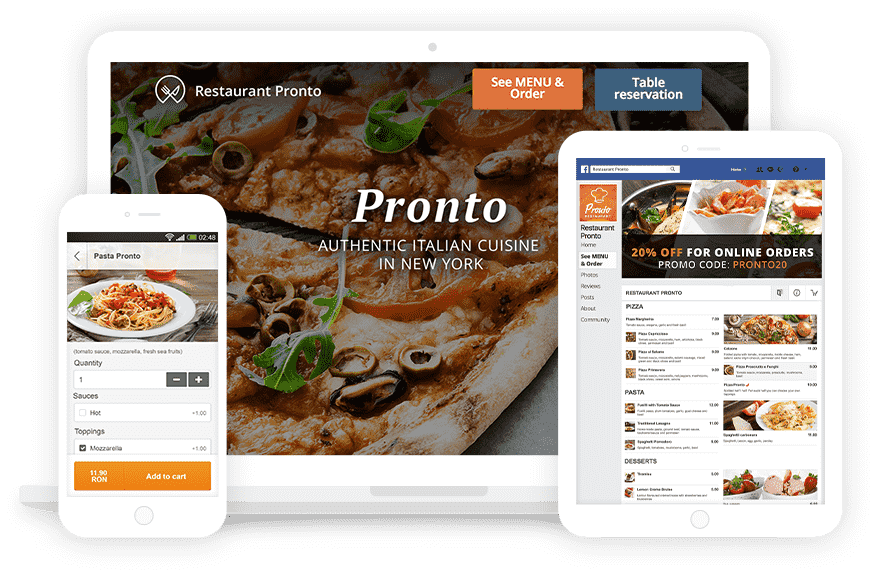 Take your first online order tonight
In just a few minutes, you'll have a powerful and intuitive online restaurant ordering system that enables your customers to place orders from your website, Facebook page & mobile app.
No matter how much your business grows, you have unlimited orders with plans to fit your budget.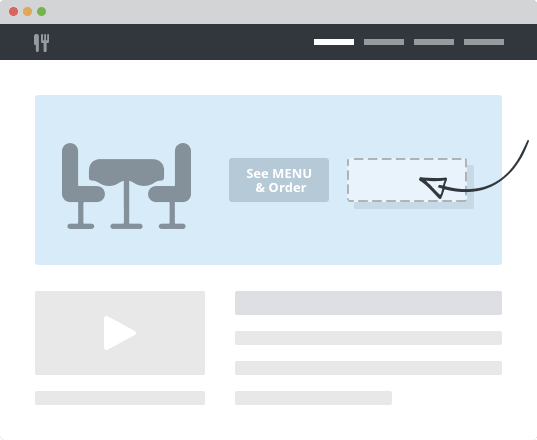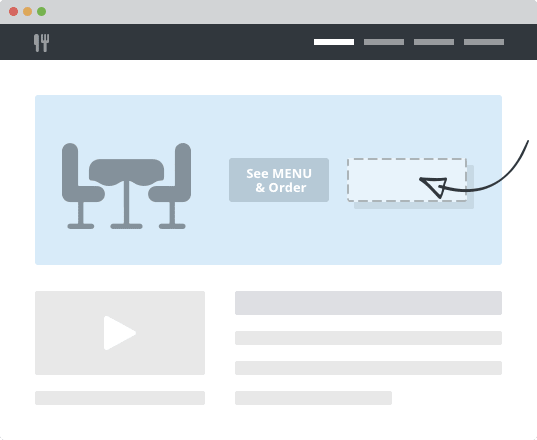 Table reservations with food ordering in advance
Add the "Table Reservations" button on your restaurant website and allow customers to book a table online, at no cost.
You can even allow food ordering in advance and have the dishes ready at your clients' arrival. Happy customers, faster table turnover. Perfect.
Receive orders & table reservations directly on your smartphone or tablet
Receive instant push notifications on your Android or iOS device every time your customers place an order or book a table. Ka-ching!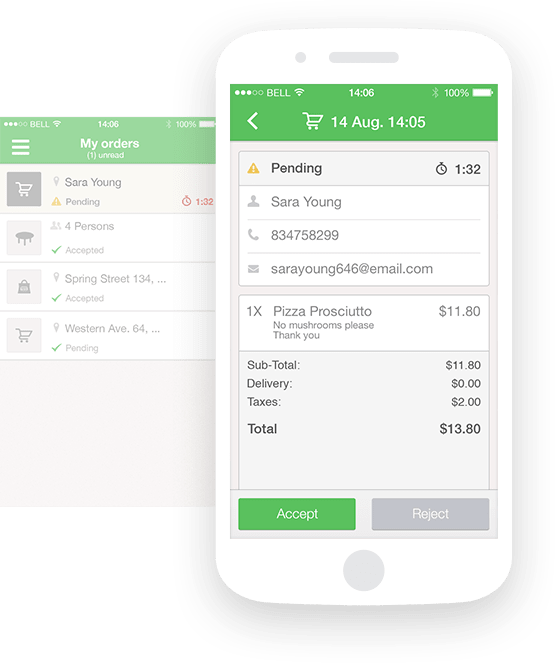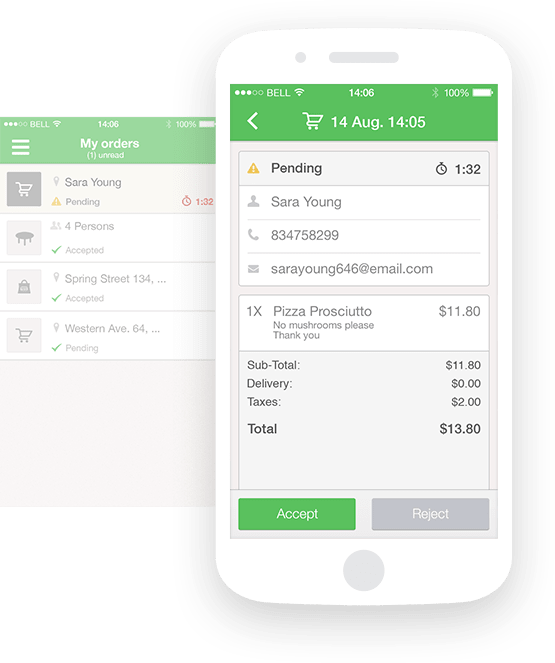 559 Graphics added ultimate value to these clients brands.

559 Graphics ensures that all the work we do is specifically customized to meet the diverse needs of each clients.

559 GRAPHICS: WHERE VALUE IS CREATED!

Each client has the liberty to choose from our service deals that are available at the lowest prices to offer the client a glimpse, on the effort we put into our work!

BASIC

3 Page Custom Website
Dedicated Account Manager
Mobile Responsive
2 Design Concepts
Google Analytic Integration
Domain & Hosting Setup only
Free Marketing Strategies
SEO Optimized
Social Media Integration
Free 2 Months Maintenance

SPECIAL

Custom 5 page Informative Website
Unlimited Logo Concepts
Unlimited Revisions
Custom Logo
Content Management System
Responsive Website
Stationery Design (Print Ready Files)
100% Money Back Guarantee*
100% Satisfaction
Dedicated Account Manager
Multiple File Formats
Logo Turnaround time 24 to 48 hours

ADVANCED

Upto 10 Page Custom Website
Dedicated Account Manager
2 Design Concepts
Mobile Responsive
Google Analytic Integration
Domain & Hosting For 1 Year
Free Marketing Strategies
SEO Optimized
Social Media Integration
Free 2 Months Maintenance

559 Graphics added ultimate value to these clients brands.

559 Graphics ensures that all the work we do is specifically customized to meet the diverse needs of each clients.

559 GRAPHICS: WHERE VALUE IS CREATED!

Each client has the liberty to choose from our service deals that are available at the lowest prices to offer the client a glimpse, on the effort we put into our work!

BASIC

3 Page Custom Website
Dedicated Account Manager
Mobile Responsive
2 Design Concepts
Google Analytic Integration
Domain & Hosting Setup only
Free Marketing Strategies
SEO Optimized
Social Media Integration
Free 2 Months Maintenance

SPECIAL

Custom 5 page Informative Website
Unlimited Logo Concepts
Unlimited Revisions
Custom Logo
Content Management System
Responsive Website
Stationery Design (Print Ready Files)
100% Money Back Guarantee*
100% Satisfaction
Dedicated Account Manager
Multiple File Formats
Logo Turnaround time 24 to 48 hours

ADVANCED

Upto 10 Page Custom Website
Dedicated Account Manager
2 Design Concepts
Mobile Responsive
Google Analytic Integration
Domain & Hosting For 1 Year
Free Marketing Strategies
SEO Optimized
Social Media Integration
Free 2 Months Maintenance

559 Graphics added ultimate value to these clients brands.

559 Graphics ensures that all the work we do is specifically customized to meet the diverse needs of each clients.

559 GRAPHICS: WHERE VALUE IS CREATED!

Each client has the liberty to choose from our service deals that are available at the lowest prices to offer the client a glimpse, on the effort we put into our work!

BASIC

3 Page Custom Website
Dedicated Account Manager
Mobile Responsive
2 Design Concepts
Google Analytic Integration
Domain & Hosting Setup only
Free Marketing Strategies
SEO Optimized
Social Media Integration
Free 2 Months Maintenance

SPECIAL

Custom 5 page Informative Website
Unlimited Logo Concepts
Unlimited Revisions
Custom Logo
Content Management System
Responsive Website
Stationery Design (Print Ready Files)
100% Money Back Guarantee*
100% Satisfaction
Dedicated Account Manager
Multiple File Formats
Logo Turnaround time 24 to 48 hours

ADVANCED

Upto 10 Page Custom Website
Dedicated Account Manager
2 Design Concepts
Mobile Responsive
Google Analytic Integration
Domain & Hosting For 1 Year
Free Marketing Strategies
SEO Optimized
Social Media Integration
Free 2 Months Maintenance
559 Graphics added ultimate value to these clients brands.

559 Graphics ensures that all the work we do is specifically customized to meet the diverse needs of each clients.

559 GRAPHICS: WHERE VALUE IS CREATED!

Each client has the liberty to choose from our service deals that are available at the lowest prices to offer the client a glimpse, on the effort we put into our work!

BASIC

3 Page Custom Website
Dedicated Account Manager
Mobile Responsive
2 Design Concepts
Google Analytic Integration
Domain & Hosting Setup only
Free Marketing Strategies
SEO Optimized
Social Media Integration
Free 2 Months Maintenance

SPECIAL

Custom 5 page Informative Website
Unlimited Logo Concepts
Unlimited Revisions
Custom Logo
Content Management System
Responsive Website
Stationery Design (Print Ready Files)
100% Money Back Guarantee*
100% Satisfaction
Dedicated Account Manager
Multiple File Formats
Logo Turnaround time 24 to 48 hours

ADVANCED

Upto 10 Page Custom Website
Dedicated Account Manager
2 Design Concepts
Mobile Responsive
Google Analytic Integration
Domain & Hosting For 1 Year
Free Marketing Strategies
SEO Optimized
Social Media Integration
Free 2 Months Maintenance

559 Graphics added ultimate value to these clients brands.

559 Graphics ensures that all the work we do is specifically customized to meet the diverse needs of each clients.

559 GRAPHICS: WHERE VALUE IS CREATED!

Each client has the liberty to choose from our service deals that are available at the lowest prices to offer the client a glimpse, on the effort we put into our work!

BASIC

3 Page Custom Website
Dedicated Account Manager
Mobile Responsive
2 Design Concepts
Google Analytic Integration
Domain & Hosting Setup only
Free Marketing Strategies
SEO Optimized
Social Media Integration
Free 2 Months Maintenance

SPECIAL

Custom 5 page Informative Website
Unlimited Logo Concepts
Unlimited Revisions
Custom Logo
Content Management System
Responsive Website
Stationery Design (Print Ready Files)
100% Money Back Guarantee*
100% Satisfaction
Dedicated Account Manager
Multiple File Formats
Logo Turnaround time 24 to 48 hours

ADVANCED

Upto 10 Page Custom Website
Dedicated Account Manager
2 Design Concepts
Mobile Responsive
Google Analytic Integration
Domain & Hosting For 1 Year
Free Marketing Strategies
SEO Optimized
Social Media Integration
Free 2 Months Maintenance